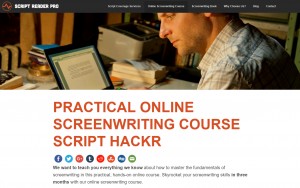 Our latest Story Planner competition has a screenwriting theme, and a great prize of a downloadable Script Hackr course created by the guys at Script Reader Pro. This screenwriting course teaches the fundamentals of screenwriting in 7 practical modules, and it's bound to inspire better writing.
The competition is as easy as can be and completely free. Simply send a screenplay idea outlined using any plan from Story Planner's Screenplay Structure category.
You might choose a <a href="http://www cialis preissenkung.storyplanner.com/story/plan/save-the-cat-beat-sheet" target="_blank">Save the Cat!® beat sheet, you might like to use traditional 3 Act Structure, or perhaps you like a flexible structure with Index Cards method? Any plan is eligible, and the script idea that captures our eye will win. We're looking for a screenplay concept with a well structured story structure and an intriguing idea.
Save and edit the  story plan as much as you like, and when your script outline is ready choose 'Export' and 'Email' and send the plan to the email address competitions@storyplanner.com. The deadline for entries is May 1st. There's a first prize of a Script Hackr course worth $299, and two runner up prizes of a year's subscription to Story Planner.
Script Reader Pro are currently running a discount on Script Hackr for all Story Planner contest entrants, and we think it's a great deal for this unique downloadable course! Forget all the confusing and vague "fluff" found in most screenwriting courses, coverage and books. Script Hackr will skyrocket your screenwriting skills by utilizing rarely talked about hacks and hands-on practical exercises to de-mystify theory. The course retails at $299 but Story Planner contest subscribers can get it for just $99 by using this coupon code at checkout: STYPLN3 
You can check out more details on the course here: http://www.scriptreaderpro.com/online-screenwriting-course/
Good luck with the competition and happy writing!
Here are the simple rules to the Story Planner screenplay plan contest.
A story plan from  must be submitted to competitions@storyplanner.com before midnight GMT on May 1st 2016.
The prize of a Script Hackr downloadable course plus year's subscription to Story Planner will be given to the best entry in the opinion of the judges. There will be two additional runners-up prizes of a year's premium subscription at Story Planner.
We will not publish any of the created plans and the full copyright for all submitted ideas remain with the author.
There is no minimum or maximum word length, but entrants should bear in mind that all Story Planner plans are devised to showcase a story's structure in a brief format.
Writers can submit as many competition entries as they wish.
The judges decision is final. And we hope you find it a useful exercise to think about your story with our online plans!